REMUS UOMO GRABS TOP AWARD FOR BEST FESTIVE WINDOW IN BELFAST
Published on December 22, 2022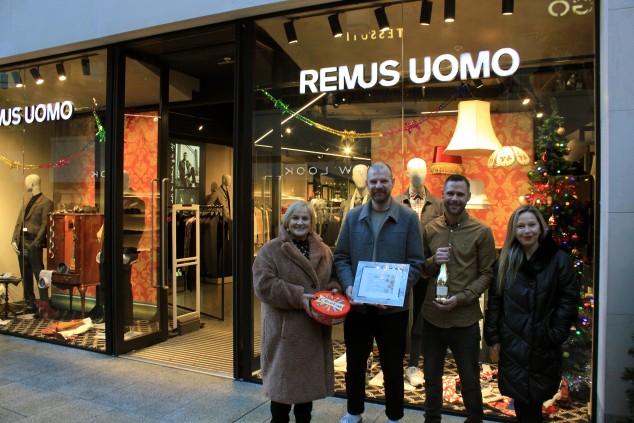 A Christmas window which celebrates the nostalgia of Christmas's bygone years has been presented with the Overall Award for the Best Festive Window by Belfast City Centre Management.
Remus Uomo, in Victoria Square, beat other leading retailers across the city to pick up the overall award within the independent retail category.
The window, created by Remus Uomo's visual merchandising manager Paul McMordie forms part of Remus Uomo's recent 'Belfast Not Milan' campaign which solidifies the brand's Belfast origin story and credentials.
Created to encapsulate the warmth of the traditional family home under a premise of 'Yer Granny's front room at Christmas' the window offers passers by a humorous nudge towards festivities in Belfast of yesteryear.
Patrick McLaughlin, Store Manager of Remus Uomo, Belfast said: "To win an award within your own shopping centre is one thing but to fend off stiff competition from other retailers across the city is quite another. We are obviously delighted to have won this award. The vibrancy of our shop windows forms an important part of the retail experience we offer to shoppers that only city centre shopping can provide."
To encapsulate the warmth of the scene Paul sourced antique furniture, created retro foil hanging decorations and added vintage toys under a traditional decorated tree. A bespoke 'chandelier' made from vintage lamp shades is included in front of a roaring fireplace which acts as a backdrop to add to the effect.
With sustainability in mind, Paul sourced the majority of props for the window display from local charity shops and salvage yards.
The Best Festive Window is organised by Belfast City Centre Management and is comprised of four award categories including Retail Independent, Retail Multi, Hospitality, and Wild Card.
Remus Uomo is an independent men's clothing brand established in 1991 in Belfast. While the brand first became renowned for its formalwear, today the collection weaves together a complete wardrobe of sharp modern tailoring and well-made, understated casuals.